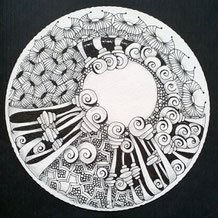 Ich tangle nur sehr selten auf einer runden "Zandala-Kachel", aber diesmal bot es sich an...
I don't often tangle on one of the round zendala-tiles. But this time it just fit so well...
---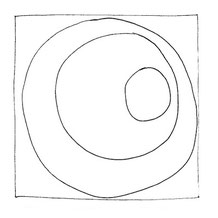 Der String, den Adele Bruno für die Aufgabe der Woche ausgesucht hat, besteht nur aus drei Kreisen. Die vorgeschlagenen Muster waren: Printemps - eines meiner Lieblingsmuster - sowie strutz und tessell, die ich bisher nicht kannte.
The string Adele Bruno chose for this week's challenge contained three circles. She suggested to use the tangles: printemps, strutz and tessell. Printemps is one of my favorites but the other ones I didn't know before.
Übrigens: während ich tessell gezeichnet habe, hatte ich mal wieder eine interessante Erfahrung mit dem "Zentangle kennt kein richtig und falsch. Aus "Fehlern" werden Gelegenheiten.Mehr dazu hier.
By the way: While tangling tessel I had an interesting experience with "There are no mistakes in Zentangle. We can transform "uuups"-situations into opportunities.