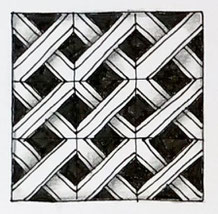 Lissabon ist eine wunderschöne Stadt. In der Altstadt sind viele der Häuser ganz und gar mit Kacheln bedeckt. Ich konnte mich gar nicht sattsehen. Und es gibt sogar ...
Lisbon is a beautiful city. In the older parts of the town many of the houses are covered with tiles all over. I could get enough og looking at all the beautuful patterns. And there is even ....
---
.... ein Kachelmuseum, das unbedingt einen Besuch wert ist. Hier habe ich ein Buch gekauft, voll mit Fotos von Kacheln und Häusern. Genau so habe ich es auch in der Stadt gesehen. Hier zwei Beispiele: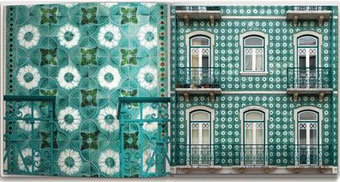 ... a tile museum, which is worth a visit for sure. There I bought a book filled with pictures of tiles and houses. Just as I had seen all over the town. Here are two examples: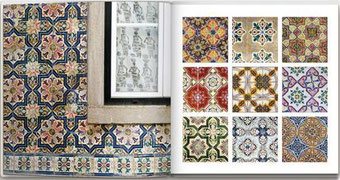 Im Museum selbst habe ich eine Kachel entdeckt, die mich fasziniert hat. Ich habe das Muster in ein Fragment umgesetzt - ein kleines Muster-Element, das man in einem Raster anordnen und wiederholen kann.
Ich habe es auch gleich auf dem Heimflug von Lissabon nach Hamburg ausprobiert.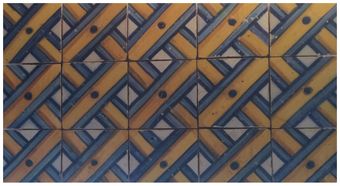 In the museum itself I discovered a tile that fascinated me. I converted the pattern into a fragment - a small pattern element that can be arranged and repeated in a grid.
I tried it out on my flight home from Lisbon to Hamburg.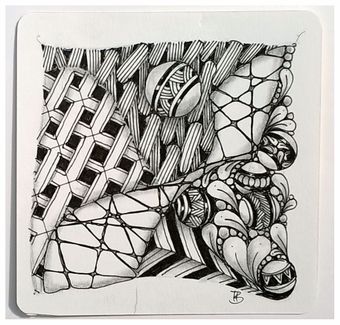 Das kleine Fragment lässt sich nun unterschiedlich  kombinieren und zu einem größeren Muster zusammensetzen. Dabei ist es hilfreich, zunächst die Struktur des Gesamtmusters anzulegen, indem zuerst nur die später oben liegenden, vollständigen Streifen gezeichnet werden.
The small fragment can now be arranged in different ways to create a larger pattern.
Therefore it is helpful to first create the structure of the overall pattern. Do so by first drawing all the complete stripes, that will later appear to be lying on top of the others - see below on the left.