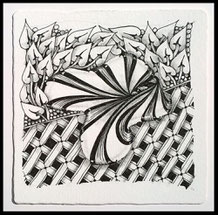 Aufgabe der Woche bei der Diva-Challenge war es, das Muster Aquafleur zu benutzen. Ich habe es mir nicht gerade leicht gemacht, weil die Form, die ich flott mit dem Bleistift hingeworfen hatte, nicht ganz einfach war ....
This week the Diva challenged us to use the tangle aquafleur. The shape I quickly sketched with my pencil wasn't the most simple one to fill with this tangle ...
---
... Aber ich wollte gar nicht erst ein Radiergummi suchen sondern habe mich mit der seltsamen Form arrangiert.
... But I didn't want to go looking for and eraser but arranged myself with the odd shape.
Im Hintergrund habe ich eine Variation von pokeleaf verwendet. Und unten ist ein Muster zu sehen, das ich aus einem Fragment entwickelt habe. Ich nenne dieses Fragment "Lisbon Fragment", weil ich es in Lissabon im Museum auf einer Kachel entdeckt habe.

Hier ist es - und dazu noch eine weitere Kachel, auf der ich es verwendet habe - getangelt im Flugzeug von Lissabon nach Hamburg.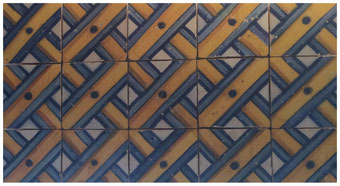 In the background I used a variation of pokeleaf. At the bottom there's a pattern I've developed from a fragment. I call it "Lisbon Fragment" because I discovered it in Lisbon in a museum on a tile.
Here it is. A nd in addition a further tile on which I used it. I tangled it on the plane from Lisbon to Hamburg.